Canada Wide-Coverage: Asset Based & Partner Network
The Greater Toronto Area shaped us in the early years of our business as we developed local cartage, regional LTL, and retail distribution services for clients in and around Southern Ontario. Located outside of Pearson International Airport, our head office has listened to demand across the Canadian market and quickly expanded to meet the needs of our growing customer base.
We Go Coast to Coast to Serve our Clients
Today, you can benefit from QRC's well established network of partnerships and assets. Open your business to customers across the country while relying on the people, planning, and processes that have made Southern Ontario operations a success.
Over time, the Greater Toronto Area's proven model of success has been adapted to fit the specific needs of cities across the country, including: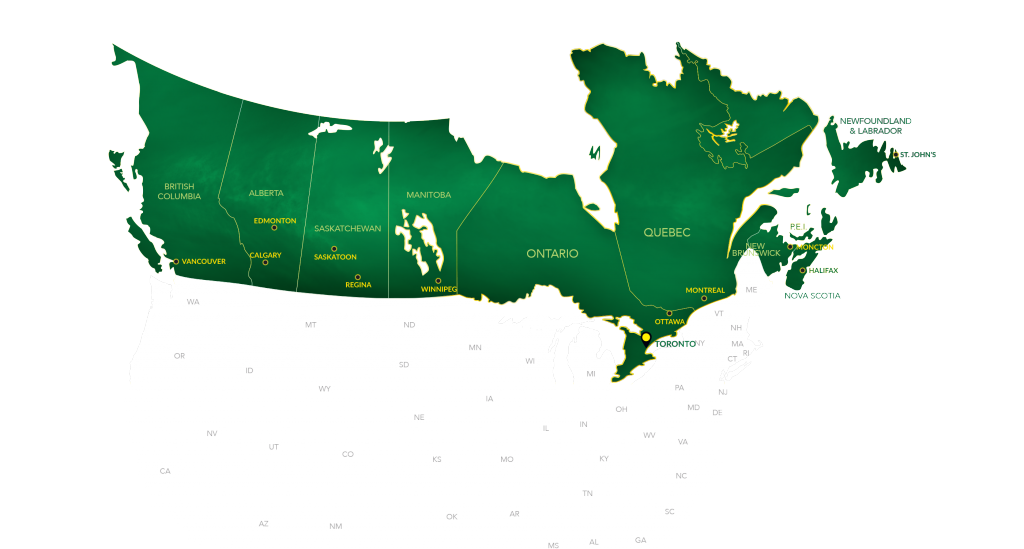 Vancouver
Calgary
Edmonton
Regina
Saskatoon
Winnipeg
Montreal
Moncton
Halifax
St. John's
Experts in Third Party Logistics
Not only will the QRC Partnership Network give you access to markets across the country, it also provides access to expert solutions. Your business thrives when you focus on the core offerings that you make to your customers. Our core offer is freeing up your business to do just that.
Lower your overhead by utilizing established logistic networks instead of establishing your own. With over four decades of experience, QRC has a deep history of processes that allow us to carry out expert deliveries and adapt to the unexpected.
From our first delivery, you will experience exceptional service. We know that your inventory is one of your biggest assets, which makes it one of ours too.
Warehousing Services
Ensure that your inventory can reach your customers with excellent storage. EDI integration with major e-commerce portals allows us to provide you with daily shipping reports that keep you informed about your business.
Manage your business more effectively by outsourcing your logistical operations to experts. Our dedicated team will manage inventory, provide pick and pack services, and take care of returns and warranty issues. We also have the resources to help you adapt to surges in activity. With our partnership network, you will have the space to take full advantage of increased demand during holidays and promotions.
As a Canadian grown distribution company, we have helped partners from the US expand their business north. Tap into the local knowledge embedded in our cross-country operations. Benefit from doing business with one third party logistics provider, knowing that you can expect the same excellent service from the Atlantic to the Pacific.
Ecommerce Fulfillment Services
Ecommerce depends on your ability to reach customers, wherever you find them. We're experienced in less than truckload (LTL) delivery across Canada and specialize in partnering with our clients to help them reach customers across Canada.
Use dropship services for unprecedented freedom in your online operations. Buy inventory only as you need it. When you make a sale, we carry out the logistics, and put it into the hands of your satisfied customer.
Send a Hello to Canadians, from QRC
Reach more customers than ever as you expand throughout Canada with QRC's range of third-party logistics solutions. When we make your deliveries, we will show your customers that you care.
Contact Us
Get in touch with us to learn how QRC can help maximize your organization's potential. One call or e-mail can extend your reach, lead to savings, and give you the competitive advantage.