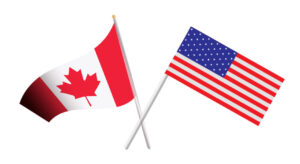 During these times of uncertainty, you need to look for concrete solutions to your daily logistical issues. That's where the dedicated experts at QRC can help. We have stayed active and in demand for over 40 years because of our ability to meet and exceed the expectations of our partners and ourselves. Our schedules are met and our promises are kept. We thrive on new challenges, which make us a better company and a more reliable transportation partner to our customers.
Benefits of Having QRC as Your Canadian Partner
At QRC, we don't just adapt to modern-day problems, we overcome, learn, and grow stronger. When you're a U.S. company looking for a Canadian 3PL partner, no one evolves to meet the changing demands of business better than QRC. Here are three reasons why our American customers choose to partner with us:
1. One of the top Canadian Carriers
Having QRC as your carrier partner means you're getting a company that has built long standing relationships with retailers and have developed deep roots in the region. QRC has a head office near Toronto's Pearson airport and Highway 401. We run well-established routes in one of Canada's biggest markets to take your products west to the Windsor/Detroit border, south to the Niagara/Buffalo border, north to Barrie and east to Ottawa. We've travelled hundreds of thousands of miles delivering goods in Canada and because of the profound relationships we have created over four decades, we have an unbeatable advantage over other carriers.
2. Access to Our Nationwide Network
Due to the success of our hard work in Southern Ontario, we have had the privilege of building a trusted network across Canada. If you're looking to expand your operations, we're here to help. From Vancouver British Columbia to St. John's Newfoundland, we can assist your company in gaining the same cross-country success that we've been fortunate enough to achieve and maintain.
3. Partner with a Dedicated Team
QRC's success relies on the hard work of our knowledgeable, dedicated team. Choose a carrier partner that embodies the same values as your company, and who have built a reputation for getting time-sensitive deliveries to retailers on time, while keeping the world of commerce moving as smoothly as possible.
At QRC, We Become an Extension of Our Partners
We are extremely proud to be able to offer a variety of services to our customers, including:
Retail Distribution
Local Cartage & Perk Skid LTL
Full Truckload (FTL)
Cross Docking, Container Destuffing, Dry Van Consolidation Load Building
Warehousing & Distribution
Ecommerce Order Fulfillment
Canada-wide Coverage
Our services become an extension of the carriers we partner with. There is no "us" and "them." From the moment a load is picked up until it's delivered on time to its destination, we are a representative of your brand.
In times of adversity, you need a partner who won't run from challenges, but who will hit them head-on. At QRC, we will work effortlessly for your company to ensure all challenges are met, and that our services remain flexible and suit your changing needs. Pick QRC as your trusted Canadian carrier partner today, and let's get moving!